Complete guide to the
LAFD

hiring controversy

A series of Times reports about problems with the hiring of the first Los Angeles Fire Department recruit class in five years has triggered a wave of criticism and calls for reform. Here's how it happened.
Applicants told to submit proof they passed fitness exam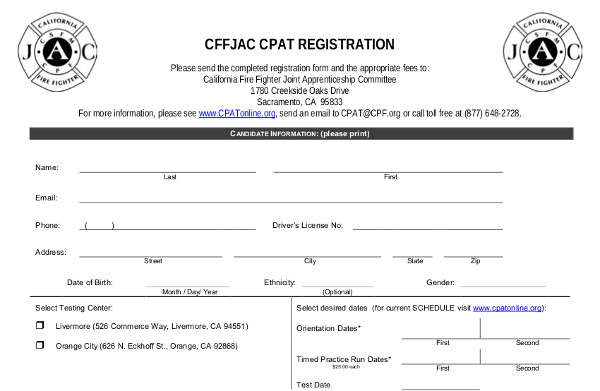 The more than 6,500 applicants who passed the written test were instructed to complete a physical agility test put on by an outside group. The applicants were told their certificate showing they had passed "would be processed in the order it was received" beginning at 8 a.m. on April 22.
Flooded by submissions, interview slots gone in 60 seconds
At 8 a.m. on April 22, the onslaught of physical fitness certificates came via email and fax, but also from those who had lined up at the city's downtown personnel office to get their forms stamped.
An overwhelming majority would be quietly eliminated from consideration not because they weren't qualified, but because their paperwork wasn't deemed to have arrived within the first 60 seconds.
City officials said they later decided they would advance only the 965 who submitted their paperwork in that first minute to interviews and set the rest aside to avoid having to evaluate thousands of submissions.
Frustration on social media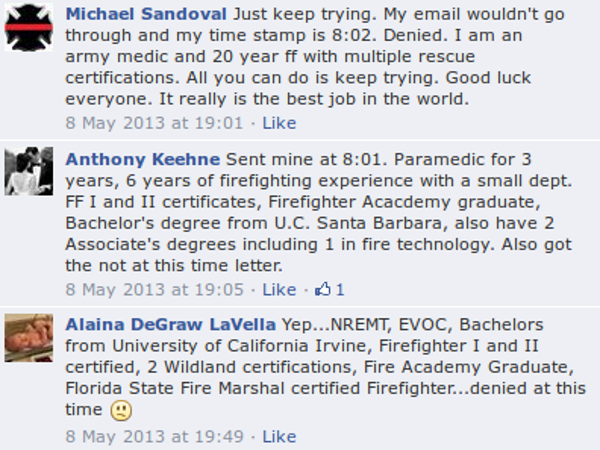 Applicants took to social media to complain that, among other things, the LAFD's system undermined the city's ability to ensure the best qualified candidates would make it through the selection process.
Final recruit class nearly all male, overwhelmingly white, Times reports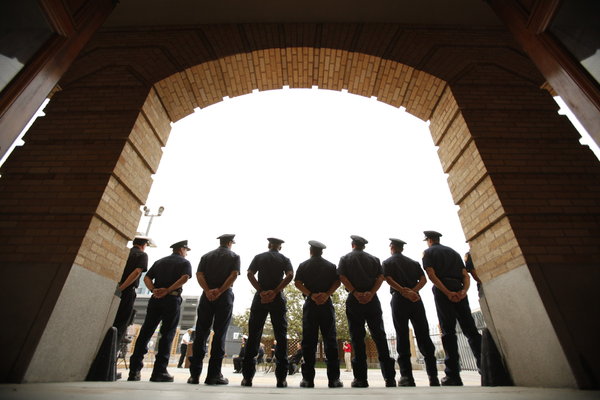 The final class of 70 firefighters was named and quickly drew criticism from Mayor Eric Garcetti for lacking diversity. The group was 60% white and contained only one woman.
The department, which has 3,200 sworn personnel, has diversified its ranks over the last two decades. city records show. But the agency is still 50% white, 31% Latino, 12% black and 7% Asian. Los Angeles is 29% white, 49% Latino, 11% Asian and 10% black, according to the Census Bureau.
And despite past scandals involving firefighter attitudes toward female recruits, the ratio of women in the uniformed ranks remains at just under 3% — the same as in 1995.

Responding to Times inquiry, city officials say they will reexamine process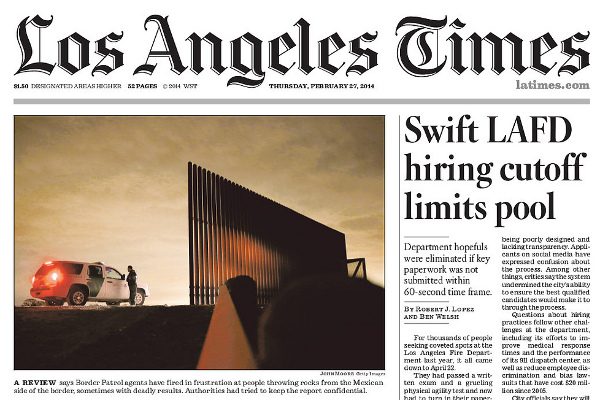 A front page story in The Times investigated the hiring process and city officials said they were reviewing procedures.
UC Irvine School of Law Dean Erwin Chemerinsky, who has studied City Hall and advised elected officials on various government reform issues, said the one-minute limit probably didn't violate applicants' constitutional legal protections. "But it is troubling to do this without notice," he said. "And it seems completely arbitrary."
More than 1 in 5 hires related to
LAFD

firefighters, Times reports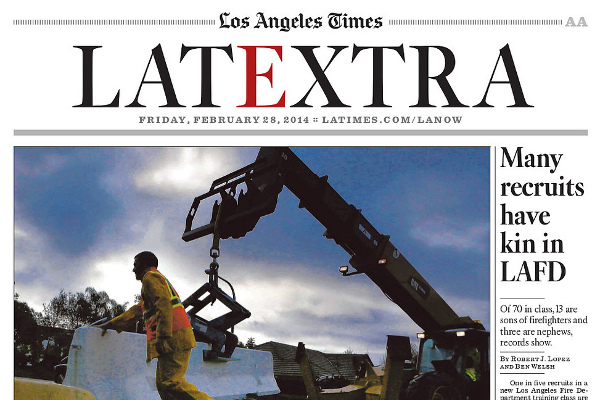 In response to inquiries by The Times, city officials released figures showing that nearly 25% of the 70 hires were related to an LAFD member.
"We are going to get to the bottom of this," said the mayor's spokesman, Yusef Robb. "This needs to be fully investigated."
Councilmembers criticize selection process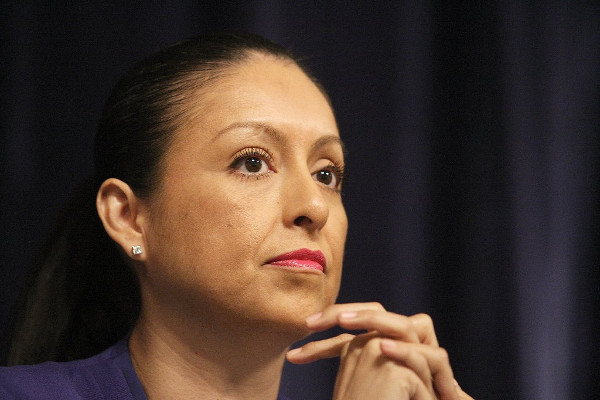 "I'm shocked, quite frankly," said Councilwoman Nury Martinez, the only female elected official in city government. "I believe there's an unfair advantage to folks who are related to current firefighters. They obviously know the process a lot better than your average person who's just applying."

LAFD

says two commanders reassigned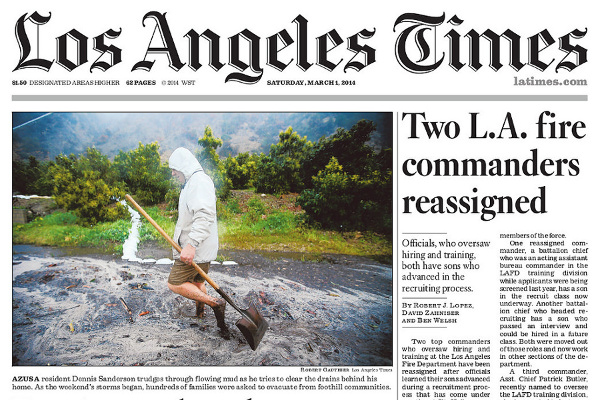 The Times reported two top commanders who oversaw hiring and training at the Los Angeles Fire Department were reassigned after officials learned their sons advanced during a recruitment process.

Emails show workshops for
LAFD

insiders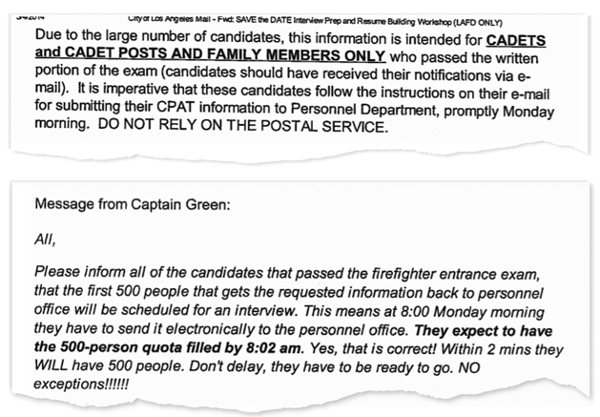 Internal LAFD emails newly obtained by The Times show dozens of department officials were alerted last year that the paperwork certifying that candidates had passed a physical fitness test needed to arrive at the city in the first minutes of the filing period if applicants were to have a chance.
Another email discussed a coaching session for relatives of firefighters that was held at a city fire station. A disciplinary investigation was opened into the captain who wrote the emails. He told The Times he also gave workshops to people not connected to the LAFD.
Mayor scraps
LAFD

hiring process, says it's 'fatally flawed'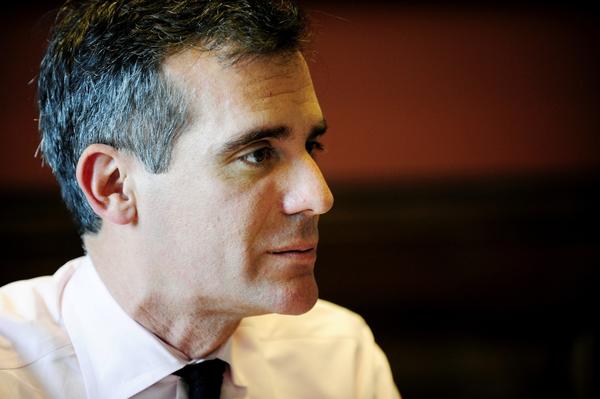 "I have determined that the Fire Department's recruiting process is fatally flawed," Mayor Eric Garcetti said in a statement. The mayor said he made his decision after he discovered that Fire Department "staff organized special recruiting workshops for LAFD insiders."
The class of 70 new recruits in training will remain. But a second class of trainees scheduled to be hired was suspended until experts from the Rand Corp. evaluate the process and make recommendations to reform the system.
Applicants on suspended list feel burned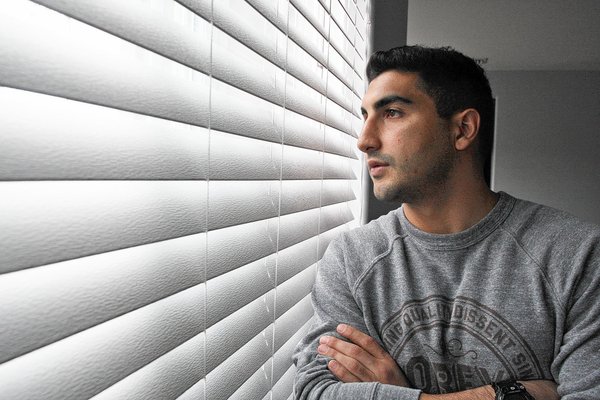 "We have proven our worth," said 26-year-old Yasha Vand of Torrance, a licensed paramedic who said he prepared himself by volunteering as a firefighter for five years.
Vand was among hundreds of candidates who received a terse, two-sentence email from city personnel officials: They would no longer be hiring from a pool of applicants who submitted their paperwork in the first 60 seconds and advanced through a yearlong screening process.
"This is not logical, "Vand said. "Especially when the deed has already been done."
Only female firefighter recruit resigns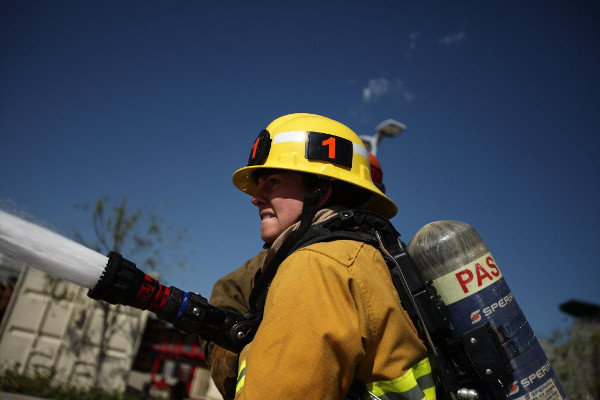 Erica Juergens was the only woman among 70 recruits picked to enter training at the LAFD's Panorama City drill tower in January. After weeks of training she resigned, citing personal reasons.
"I didn't feel like it was ultimately the job for me," Juergens said. "But I was very welcomed and offered support and encouragement along the way."
A spokesman for Mayor Eric Garcetti said her departure underscores the importance of hiring and retaining qualified female firefighter candidates.
"We can debate what percentage of female recruits is possible, but 0% is absolutely unacceptable," spokesman Yusef Robb said.
Garcetti moves to restart suspended
LAFD

hiring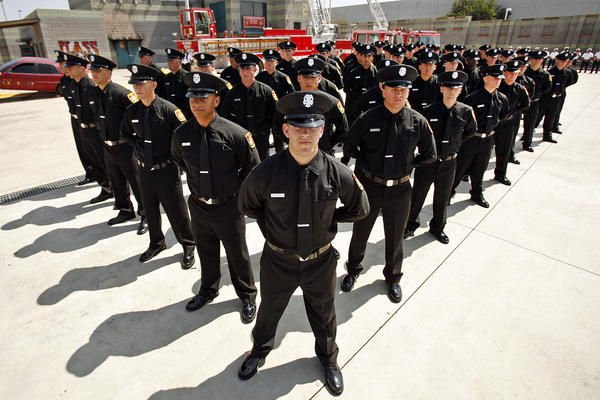 In a bid to boost the number of women and minorities in the LAFD's ranks, city officials proposed introducing a lottery to winnow the pool of candidates seeking coveted slots in new fire academy classes.
When Mayor Eric Garcetti scrapped the last round of firefighter hiring in March, he promised to follow recommendations of outside experts from the Rand Corp., who were hired to review the recruitment process.
But with the $270,000 report still unfinished, the mayor chose to move ahead with hiring so the city can rapidly fill three classes of recruits budgeted for this fiscal year.
"Timing demands that we get moving now in order to start the first class in December," said Vicki Curry, a spokeswoman for the mayor. "We are open to improve as we move forward and the Rand report will help us in doing that."
Sources: Times research, LAFD
Credits: Ben Welsh, TimelineSetter