Coachella 2015: Your survival guide
Though the Coachella Valley Music and Arts Festival has become something of a spring tradition, there are still many questions for those preparing to attend the desert festival for the first time. The festival's website has its list of tips as well as some do's and don'ts, but here are a few of ours.
There's no secret route to get there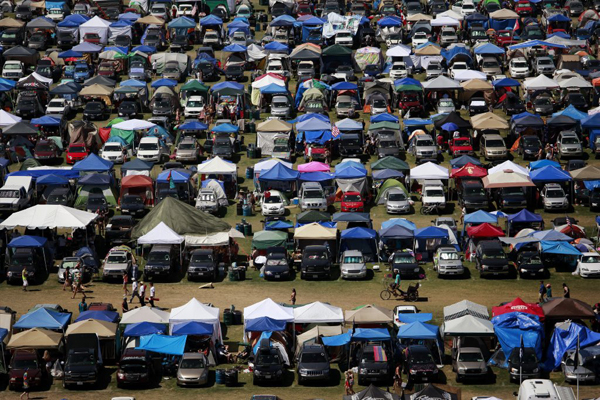 Are you playing Coachella? Are you a charter member of the Empire Polo Club and riding to the festival on your horse? Are you actually Goldenvoice chief Paul Tollett? If not, there is no undiscovered residential side street you can take to beat traffic. Indio knows all your tricks and will thwart you (though we do love taking Hjorth Street just so we can say the name out loud).
Don't put your wristband on until you're in the car
We've heard of enthusiastic Coachellans donning their microchipped wristbands immediately after getting them in the mail way in advance of the show. Congratulations, now you're the office goober advertising to all your co-workers that you're going to be hung over on Monday.
There are real bathrooms for the plebes this year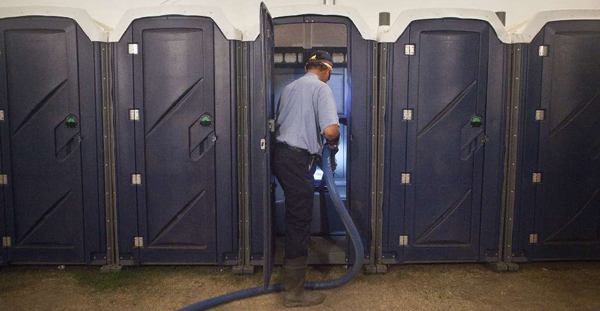 The future is now! For the first time, Goldenvoice has installed 324 indoor, permanent bathroom stalls on the fest's Terrace section that are accessible to every lowly general admission ticketholder. They'll probably look like that scene in "Trainspotting" by 5 p.m. Friday. But, hey, progress.
Have a meeting place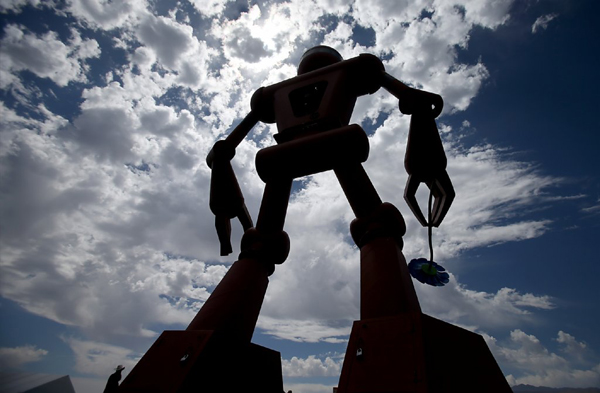 Cell reception drops to tin-can-and-string-level reliability on the field. So when your friend decides that she isn't leaving the dance tent if there's even a shred of possibility that Daft Punk might show up, you'll be glad you said ahead of time: "OK, meet at the fire-breathing robot mushroom statue."
It's
OK

to admire the local fauna

Coachella couples: If you catch your significant other's eye wandering to that pack of body-painted rave girls or a dashing young ringer for Nick Cave, let it go. Honestly, would you want to be dating someone who can make it through that field of California suntans without even an aesthete's appreciation?
Be a gourmand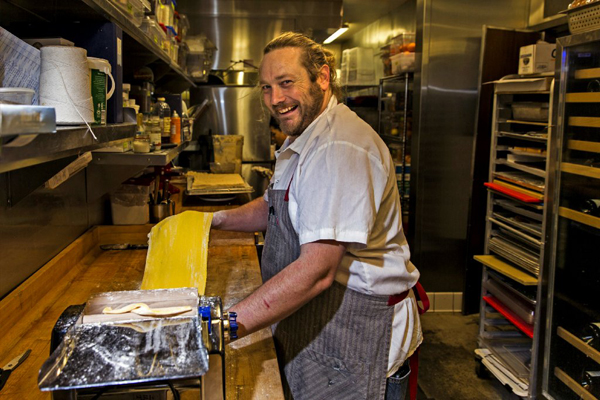 Yes, we usually exist solely on a diet of Spicy Pie and Heineken Light all weekend. But with the recent emphasis on high-end options from chefs like Bruce Kalman and Kris Morningstar and an alfresco dinner party with tickets at $225 a head, we're walking that back to say: Treat yourself. The festival itself has also begun resembling L.A.'s dining scene with pop-up restaurants and outposts from various DTLA eateries, including the vegan Ramen Champ, as well as Guerrilla Tacos, McConnell's Fine Ice Creams and Blue Bottle Coffee.
(Find a full rundown . Plus, pro tip: If you're still scrambling to buy tickets, the Outstanding in the Field dining package gets you in the fest and a great meal to boot.)
Dress in layers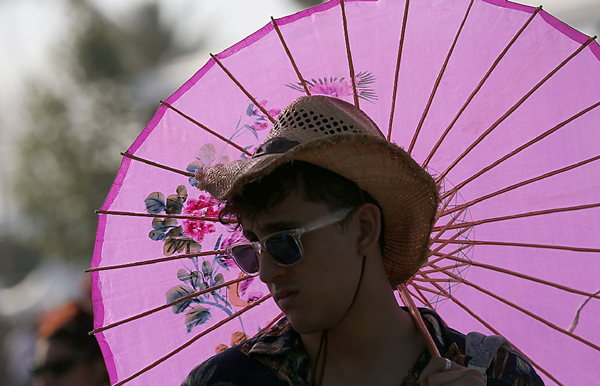 By day, Coachella is essentially a lawn-scented fashion runway showcasing the finest in barely-there lace and swimwear. Then the sun goes down, and everyone is instantly freezing in their Stevie Nicks hats and bikini tops. When temperatures drop at night, you'll be thankful you aren't stuck buying a $50 David Guetta hoodie just to get through the chill.
Bring cash
You'll feel like a drug kingpin walking around with a bunch of bills tucked in your socks. But the ATM fees are ridiculous, the machines are often on the fritz, and you don't want to be the guy trying to split a bar tab across a bunch of credit cards with a six-deep line behind you. We love using those new four-card mini-billfolds, so all your cash and documents aren't in one very droppable location.
Stick to beer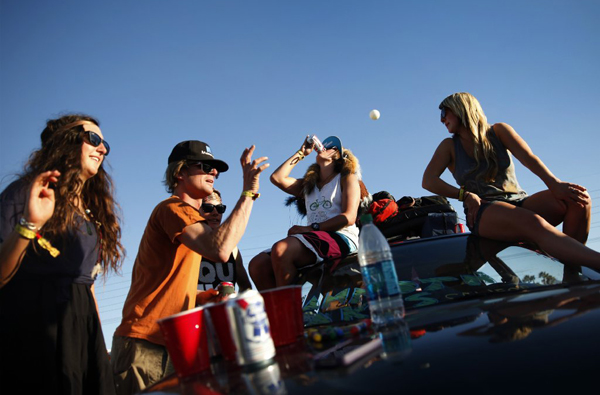 Yes, we love whiskey. Vodka too. (And tequila. And gin.) But hard alcohol doesn't come cheap at Coachella, and the bartenders in the liquor tents pour with the icy precision of a Pfizer chemist. Stick with beer. It's cheaper, and your mere existence in this heat is burning enough calories to compensate.
Don't lose your phone
Every year we're blown away by the iPhone refugee camp that is the Coachella lost-and-found (where, surprisingly, it's not all unhappy endings.) Still, remember your back pocket won't do – keep it up front. And if you put your phone in a pocket of your backpack, be sure to wear your pack on the front of your body when you're mashed in with a big crowd.
Relax a little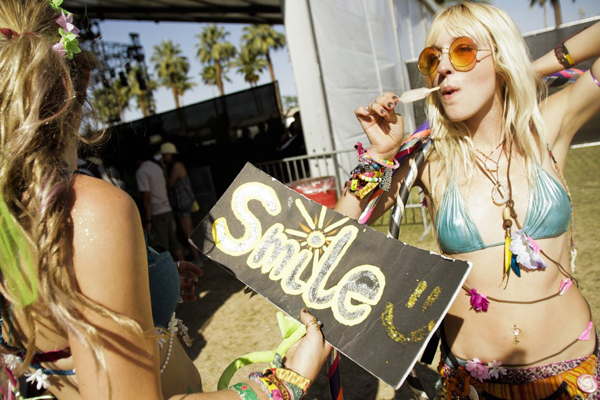 Feeling beat and want to skip Steely Dan's grumpy jazz fusion? Having a good talk about the future of California's drought in the beer garden and want to tie one on? There's an old Coachella koan that we made up, and it says, "She who sees everything at Coachella truly saw nothing." You don't lose scene points for showing up at 7 p.m. or posting up at the cocktail tent for the afternoon. You paid through the teeth — enjoy your vacation.
And if you're not going?
FOMO

is nothing to fear

Even though all the suddenly ample parking in Silver Lake and Highland Park may indicate otherwise, not everyone is going to Coachella this year. If you couldn't make the trip this y ear, the festival's YouTube channel will be streaming most of the weekend's offerings, and Sirius XM just launched a Coachella Radio Channel that promises live performances and artist interviews. Just think of the money you're saving on water and sunscreen.