'FISCAL CLIFF' LEGISLATION EXPLAINED
Details of the Senate bill to avert the 'fiscal cliff'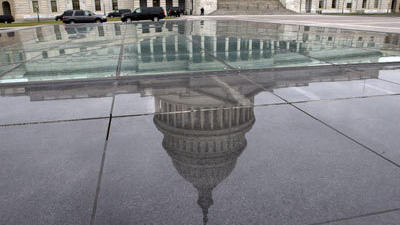 The Cap­it­ol is re­flec­ted on the wet ground in Wash­ing­ton, D.C., on Tues­day. Cred­it: Jac­quelyn Mar­tin, As­so­ci­ated Press
A bill ap­proved Tues­day by the Sen­ate — and later by the House — averts wide tax in­creases and budget cuts sched­uled to take ef­fect in the new year. The meas­ure raises taxes by about $600 bil­lion over 10 years com­pared with tax policies that were due to ex­pire at mid­night Monday. It would also delay for two months across-the-board cuts to the budgets of the Pentagon and nu­mer­ous do­mest­ic agen­cies. Here are a few high­lights.
Scroll down or use J and K to advance the time log
Published: Jan. 1, 2013
Sources: From the Associated Press
Readers: What's your take? Share it here.