Ratko Mladic: From hunter to hunted to held
Ratko Mladic, the Bosnian Serb general accused of overseeing the worst massacre in Europe since the end of World War II, is on trial at The Hague. Mladic was one of Europe's most wanted war crimes suspects until his arrest near Belgrade in May 2011.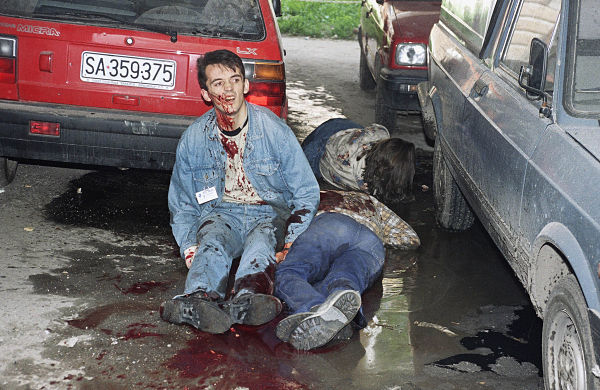 Shortly after a Feb. 29 referendum in Bosnia-Herzegovina that endorsed independence from Yugoslavia, the forces of Ratko Mladic begin a four-year siege of Sarajevo.
Bosnian Serb forces, led by Ratko Mladic, capture the "safe area" of Srebrenica. Over several days up to 8,000 Bosnian Muslim men and boys are slain by Serbian forces.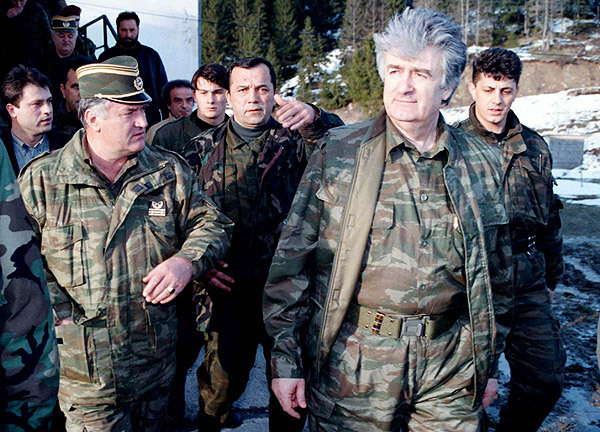 The United Nations' tribunal on Balkan war crimes issues indictments against Bosnian Serb leader Radovan Karadzic and his military chief, General Ratko Mladic, charging them with genocide, war crimes and crimes against humanity.
In connection with the massacre in Srebrenica, the U.N. war crimes tribunal issues new indictments against Bosnian Serb political leader Radovan Karadzic and military commander Ratko Mladic.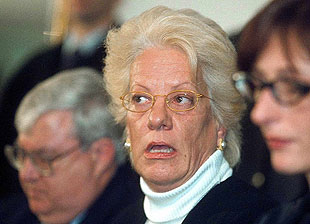 President Slobodan Milosevic, who was ousted in 2000, is handed over to U.N. Tribunal. Chief prosecutor Carla Del Ponte starts a new campaign to locate and apprehend Ratko Mladic and Radovan Karadzic.
Head of the European Union military force says he has evidence that, within the last six months, the Bosnian Serb army hid Radko Mladic in an underground bunker facility in Veliki Zep, Bosnia-Herzegovina.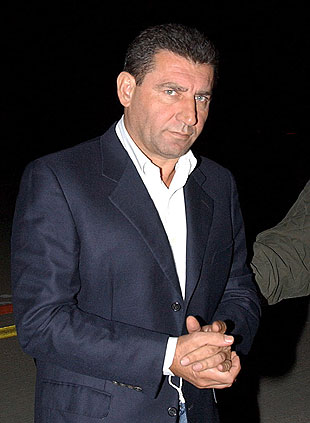 Fugitive Croat General Ante Gotovina is captured, redoubling pressure on Serbia to catch Ratko Mladic. The state warns that anyone aiding Mladic or his helpers will be prosecuted.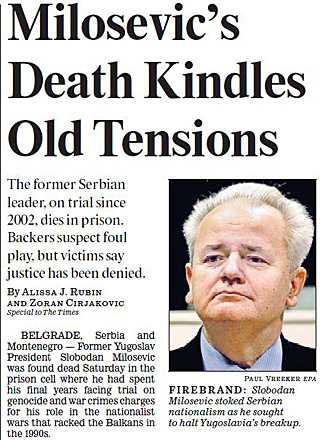 Former Yugoslav President Slobodan Milosevic is found dead in his prison cell at The Hague. Milosevic, 64, had been on trial on genocide charges for the "ethnic cleansing" campaign in Bosnia-Herzegovina and on charges of crimes against humanity and other war crimes for his role in the conflicts in Croatia and Kosovo.
After months of warnings, the European Union suspends talks with Serbia on a Stabilisation and Association Agreement, putting EU membership hopes on hold. The dramatic turn of evens was set in motion by Belgrade's failure to meet an EU demand to deliver Ratko Mladic to the International Criminal Tribunal for the Former Yugoslavia at The Hague.
Under a new coalition government, the drought of handovers suddenly ends, with the arrest in Bosnia of wanted Ratko Mladic aide Zdravko Tolimir.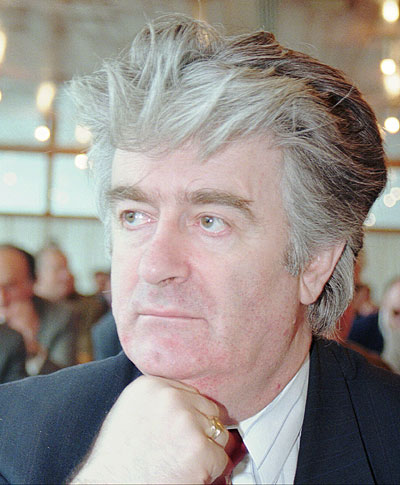 Radovan Karadzic is arrested in Belgrade. Police say the bearded, grey and almost unrecognizable man had been living under a false identity, practicing alternative medicine.
Ratko Mladic, the Bosnian Serb general wanted for his alleged role in the 1995 slaughter of 8,000 in the enclave of Srebrenica, is arrested outside of Belgrade.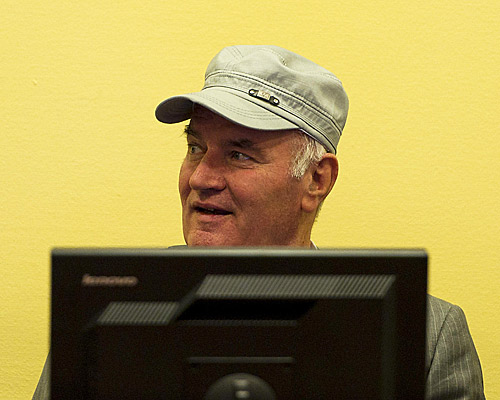 Ratko Mladic is thrown out of court at The Hague after he shouts in protest and refuses to hear the allegations against him.

The war crimes trial of Ratko Mladic opens in the International Criminal Tribunal for the former Yugoslavia in The Hague. Mladic faces 11 counts of genocide, murder, persecution, terrorism and hostage-taking, including the 1995 slayings of 8,000 Muslim men and boys in the town of Srebrenica. He denies all of the accusations.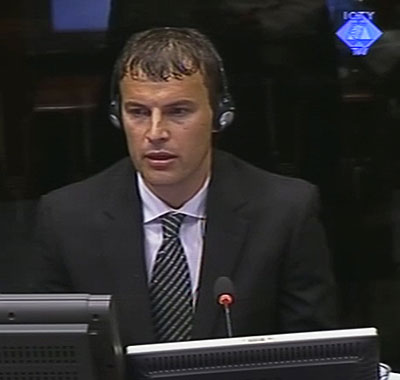 Elvedin Pasic, a 34-year-old Bosnian Muslim, is the first witness to give testimoney at the United Nations trial of Ratko Mladic. Mladic, who faces 11 charges of genocide, crimes against humanity and war crimes for allegedly masterminding Serb atrocities throughout the 1992-95 Bosnian war, is the last top-ranking suspect to go on trial at the U.N. court
Sources: Reuters, Times research
Credits: Ben Welsh, Maloy Moore, TimelineSetter