Timeline

Windsor family weddings

Royal weddings have long been occasions of fascination and splendor. Here's a look at the marriages of key members of the British royal family — as well as two recent engagements — beginning with Queen Victoria's 1840 union with her first cousin, Prince Albert of Saxe-Coburg & Gotha.
George V marries Princess Mary of Teck at Chapel Royal. She had been engaged to his older brother, Albert, who died unexpectedly of pneumonia six weeks after the betrothal was announced. A story in The Times reports of the wedding: "The weather was beautiful. A great crowd gathered along the route from Buckingham Palace to the garden entrance of St James Palace… The ceremony eclipsed in pomp and splendor any recent ceremonial of the British court."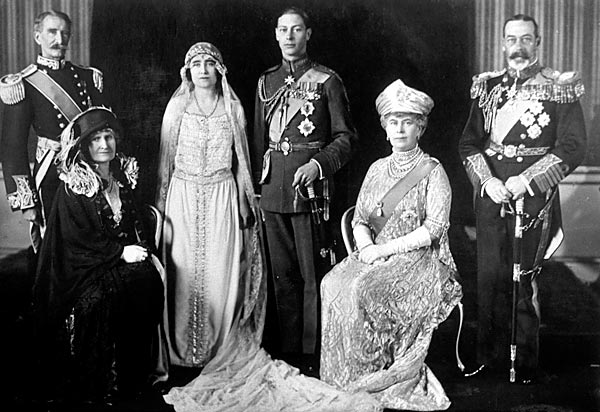 The future George VI marries Lady Elizabeth Bowes-Lyon, the daughter of the Earl of Strathmore and Kinghorne, at Westminster Abbey. At the time, he is second in line to the throne. The Times reports that the bride "wore the simplest and daintiest gown probably ever made for a royal marriage."
Tagged as
Westminster Abbey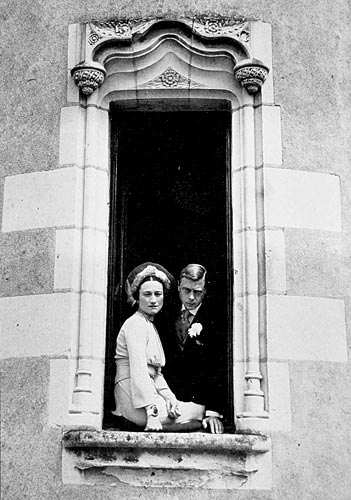 The Duke of Windsor, formerly Edward VIII, marries Wallis Simpson, a twice-divorced American, at Ch√Ęteau de Cand√© in France. He had abdicated the throne a year earlier in order to continue their romance, telling his subjects: "I have found it impossible to carry the heavy burden of responsibility and to discharge my duties as king as I would wish to do without the help and support of the woman I love."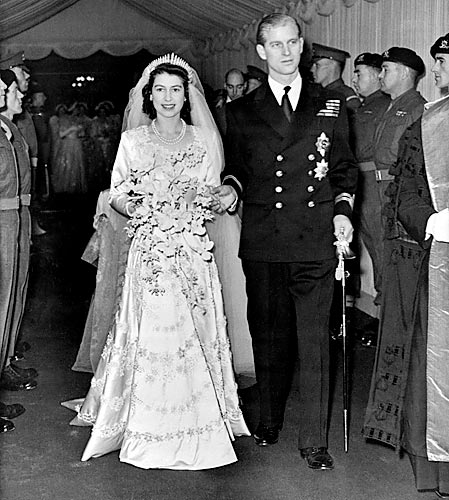 Princess Elizabeth, 21, marries Prince Philip, 26, the son of Prince Andrew of Greece and Denmark at Westminster Abbey. He receives the title of Duke of Edinburgh on the day of the wedding. The Times reports that they "married in a ceremony of breathtaking beauty" and drove past well-wishers in a glass carriage to shouts of "we want the bride."
Tagged as
Westminster Abbey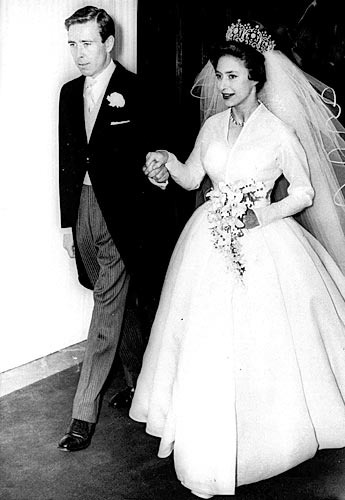 Princess Margaret marries Antony Armstrong-Jones, a photographer and a commoner. The ceremony, at Westminster Abbey, is the first royal wedding to be televised. Her previous love affair with Group Capt. Peter Townsend, who had divorced his first wife, ended under tremendous pressure on her to refuse his proposal of marriage. Her marriage to Armstrong-Jones, who was given the title Earl of Snowdon, ends in divorce in 1978.
Tagged as
Westminster Abbey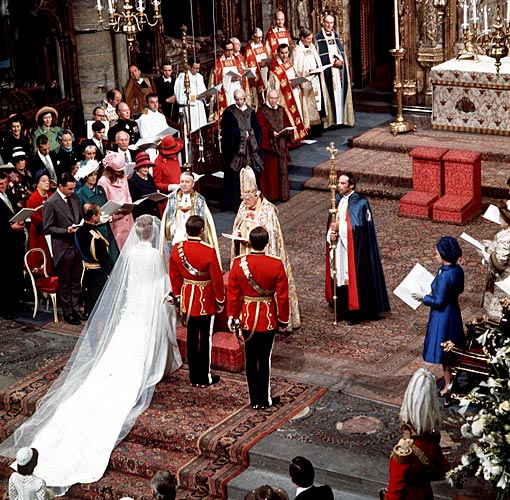 Anne, Princess Royal, marries Mark Phillips at Westminster Abbey. The Times reports that her mother, the queen, weeps in public for the first time "tears of joy at the unaffected delight of seeing her 23-year-old daughter and the dashing Dragoon Capt. Mark Phillips in love." The couple divorces in 1992.
Tagged as
Westminster Abbey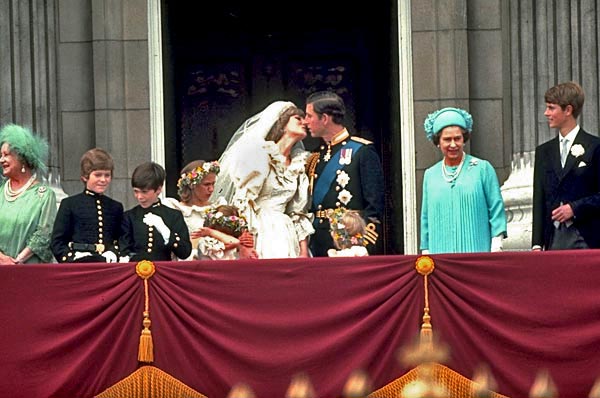 Charles, Prince of Wales, marries Lady Diana Spencer, daughter of the Earl of Spencer at St. Paul's Cathedral. Hundreds of millions of people watch the televised ceremony. "Here is the stuff of which fairy tales are made," the archbishop of Canterbury says in a brief homily. A wedding, he adds, is the "place where the adventure really begins." The couple divorces in 1996.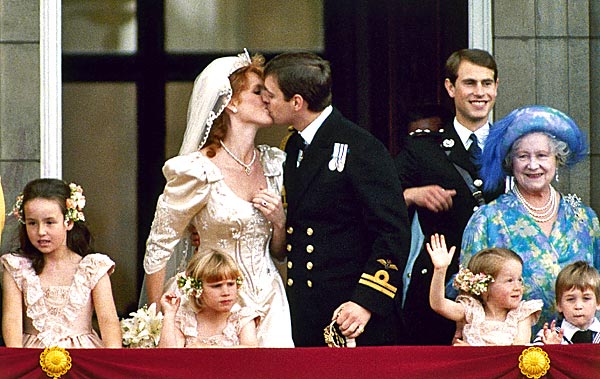 Prince Andrew, Duke of York, marries Sarah Ferguson, both 26, at Westminster Abbey. An estimated 300 million people watch on television. The Times' reports: "The royal family celebrated the occasion with a sense of pomp, military precision and style that have become a British trademark. Not even the bride, clad in a flowing, Edwardian-style gown with an elaborately embroidered and beaded train, was late for the ceremony." They divorce in 1996, four years after formally separating.
Tagged as
Westminster Abbey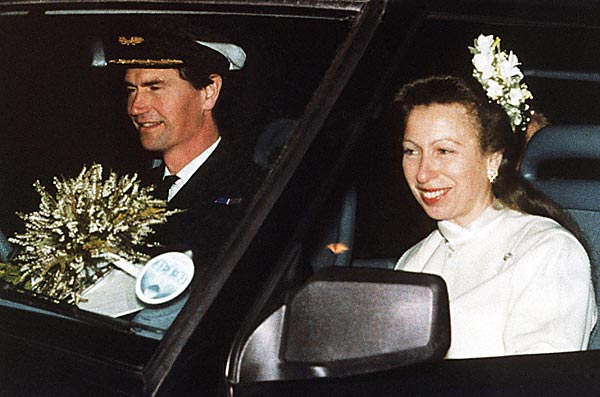 Princess Anne marries naval Cmdr. Timothy Laurence. Only about 30 guests attend the service at tiny Crathie Church near the royal Balmoral Castle in northeastern Scotland on an overcast, bitterly cold day with a hint of snow in the air. It is in marked contrast to her first marriage in a glittering state wedding in Westminster Abbey nearly two decades earlier.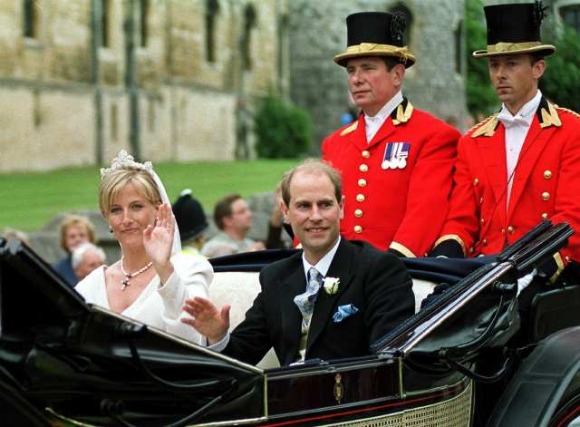 Prince Edward, the youngest child of Queen Elizabeth, marries Sophie Rhys-Jones, a public relations executive. The Times reports: "Despite the royal splendor, it was a relatively modern ceremony for a decidedly modern couple. The early evening service, attended by just 550 family members and friends, was held well away from London's great cathedrals and with no military processions or official representatives from other countries."
Tagged as
St. George's Chapel
Prince Charles marries Camilla Parker Bowles 35 years after their romance first began. After the civil exchange of vows at the Guildhall in Windsor, witnessed by only a few dozen close family members and friends, Charles and Camilla emerged for a much more public and elaborate religious service of "prayer and dedication," televised nationwide and attended by his mother. Camilla, whose first marriage also ended in divorce, uses the title Duchess of Cornwall.
Buckingham Palace announces the engagement of Prince William to his longtime girlfriend, Kate Middleton, both 28. He had proposed while on safari in Africa, giving his bride-to-be his mother's famous sapphire and diamond engagement ring. The couple met while studying at the University of St. Andrews in Scotland. With no royal or aristocratic pedigree, Middleton will become the first commoner in centuries to marry a presumptive heir to the throne. The wedding is scheduled for April 29.
Tagged as
Westminster Abbey
Sources: Times research
Credits: Jerome Adamstein, Megan Garvey, Ben Welsh, TimelineSetter