The love life of Zsa Zsa Gabor
Zsa Zsa Gabor literally wrote the book on serial romance. Her 1970 tome "How to Catch a Man, How to Keep a Man and How to Get Rid of a Man" was published when her marriages totaled five. She would go on to wed three more times. Along the way, Gabor, the second of three glamorous Hungarian sisters more legendary for their over-the-top lifestyles than work, also had broken engagements and one wedding declared invalid because a pending divorce was not final.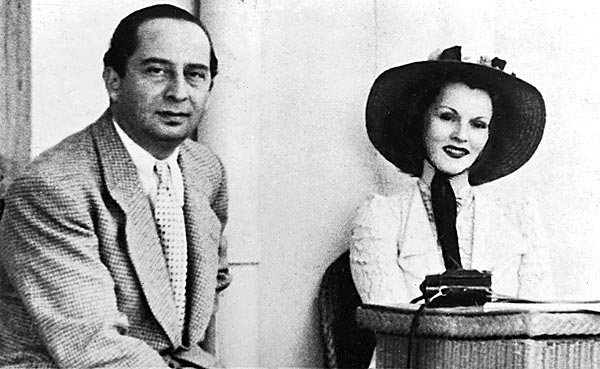 Zsa Zsa Gabor (then known as Sara, or Sari Belge) makes her first trip to the United States. She is married to Burhan Belge, a Turkish diplomat, and plans to spend four months at the Beverly Hills home of her younger sister Eva, an actress.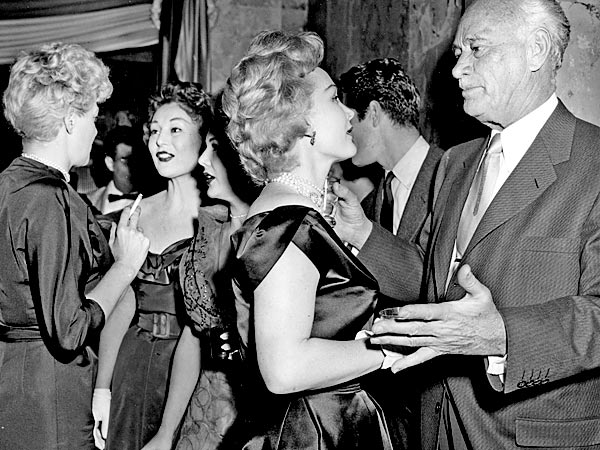 Gabor is granted a divorce from Hilton, with whom she has a daughter, Francesca. When she sued for divorce the previous year, Gabor said she planned to ask for $10 million — money she said she would give to European war refugees. At right, Gabor and Hilton together in1954 at Ciro's in Hollywood.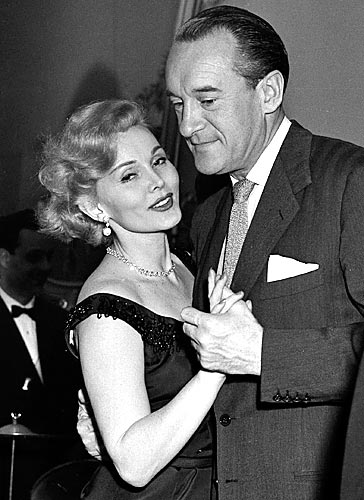 Gabor announces plans to wed actor George Sanders. They marry the following day in Las Vegas. The union is Gabor's third and Sanders' second. News reports say that by remarrying, she gave up $25,000 a year in alimony from Hilton.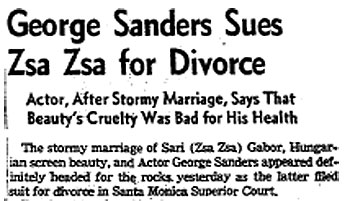 The stormy marriage of Gabor and Sanders appears headed for the rocks. Sanders files for divorce in Santa Monica Superior Court, charging mental cruelty.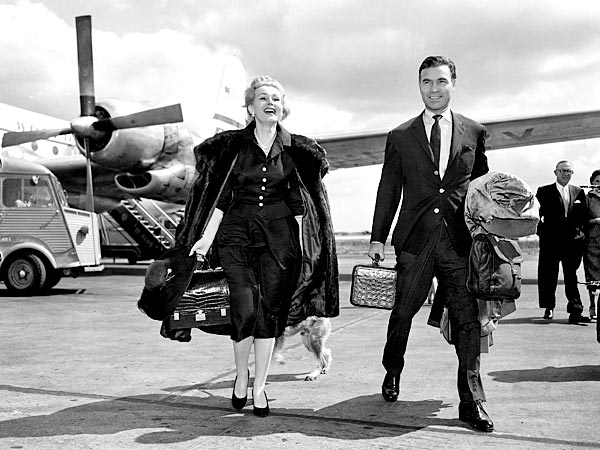 Gabor denies romancing Porfirio Rubirosa, a Dominican diplomat, during his days-long marriage to heiress Barbara Hutton. Gabor, who had previously had a volatile affair with Rubirosa, tells The Times "I plan to marry nobody."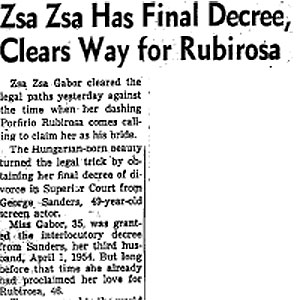 Gabor obtains final decree of divorce from Sanders. She and Rubirosa, who despite her previous denials have long been reunited, say they plan to marry at some point.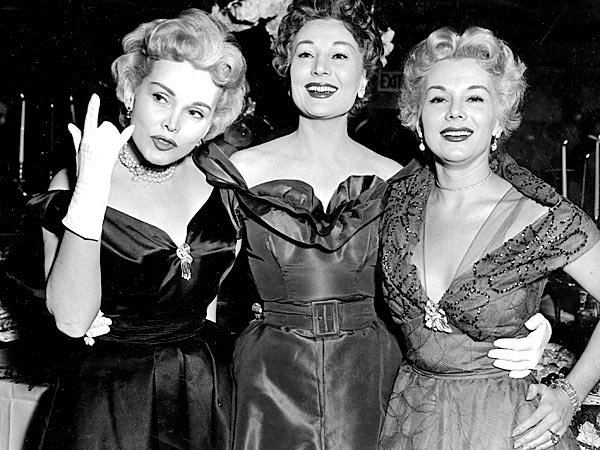 Jolie Gabor, mother of Zsa Zsa, Eva and Magda, marries her third husband. Photo, from left: Zsa Zsa, Magda and Eva in 1955.
Gabor hints she's close to marrying wealthy Los Angeles contractor Hal B. Hayes. The pair first planned to wed in 1956. But the marriage never takes place.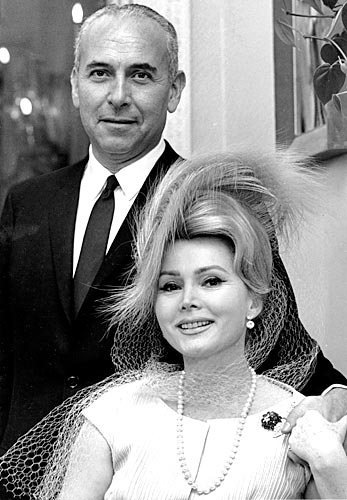 Gabor marries her fourth husband, industrialist Herbert L. Hutner. She says of the marriage: "I am going to work very hard to make it my last." Hutner is chairman of the board of directors of Struthers Wells Corp. of Harrison, N.Y. This is Hutner's second marriage.They divorce less than four years later.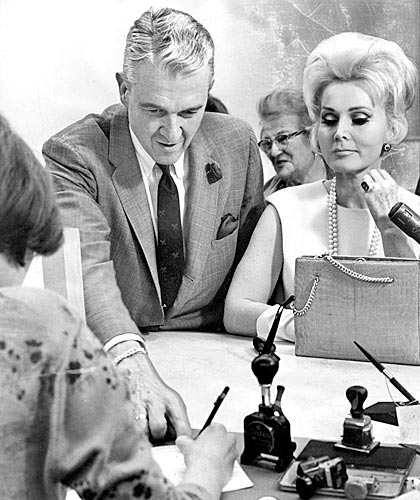 One day after divorcing Hutner, Gabor picks up a license in Santa Monica to wed for a fifth time, telling reporters she had met the groom, Dallas petroleum executive Joshua S. Cosden Jr., six weeks earlier at a party. Gabor and Cosden marry Mar. 6, 1966 and divorce the next year.
In an interview with The Times titled 'How to Catch Man,' Gabor advises: 'Never let a man be too sure of you. He finds this boring.'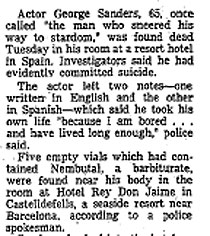 Gabor's third husband, George Sanders, is found dead in Spain. Sanders, who took his own life, had also been married briefly to Gabor's older sister, Magda. Zsa Zsa says she is heartbroken by his death, calling him "the major love of my life."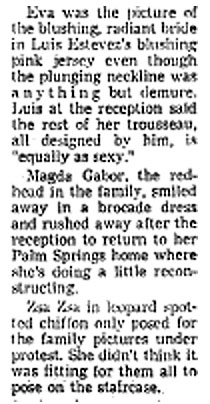 The Gabor clan gathers as Eva marries Frank Gard Jameson, a senior consultant with an engineering company. The marriage, Eva's fifth, puts her temporarily on par with both Zsa Zsa and Magda.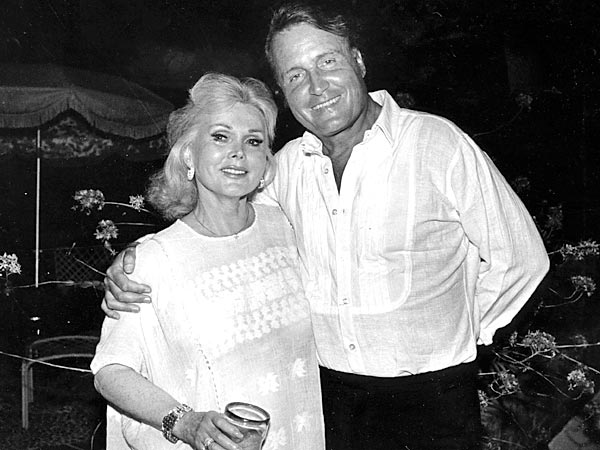 Gabor marries Felipe de Alba on a yacht off Puerto Vallarta in early April. But the ceremony proves invalid because her divorce from O'Hara was not final. Gabor later cancels a second wedding with De Alba, planned for July. "He bored me," says Gabor. "He's a playboy and I'm a hard-working actress."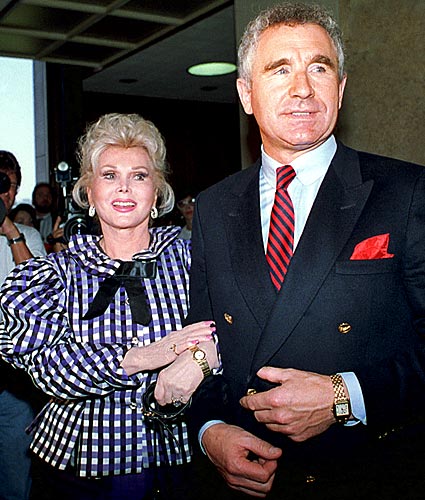 Gabor announces plans to marry again. Her eighth husband, Prince Frederick von Anhalt, is more than 25 years younger than her. Sister Eva and mother Jolie boycott the Aug. 14 ceremony at Zsa Zsa's Bel-Air home after a German newspaper reports that Von Anhalt is a convicted con man who bought his German title.
Sources: Times research
Credits: Maloy Moore, Ben Welsh, TimelineSetter